Regular price
$75.99
Sale price
$39.99
Unit price
per
Sale
Sold out
★ Limitless Possibilities for Countless of Models ★ Educational Magnet Building Sticks & Balls Kit gives your children the experience they deserve – with 44/54/65/74 pieces in a variety of shapes, your child can choose between curved & straight shapes in different lengths, develop their creativity and plan intricate designs with our dazzling PASTEL COLORS, that ignite the imagination and give an artistic touch to every model, turning every day to a party with the balloon-like style of the magnets (Attached instructions)
★ STEAM EDUCATION – Develops Creativity & Confidence ★ Learning through play has never been more engaging! Easily assemble 24 models in our step-by-step Instructions. The 24 models are just the beginning – let your kids' imagination run wild and create their own one-of-a-kind designs. Dream a model, Design it & create it. It's fun & easy to assemble the models with the super-sensitive, high-quality magnets – Feel the joy of seeing your kid successfully assemble a model.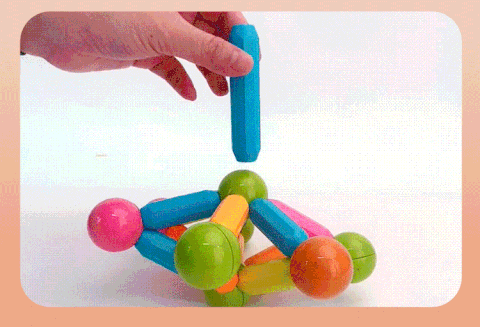 ★ A GIFT THAT EVERY CHILD WILL CHERISH ★ Astounding Pastel colors, shapes & models with

 

Ealingkids's special design:

 artistic magnetic rods with

 pop texture design

, the cute magnetic ball with

 

smiley face pattern

 

that mesmerizes and everyone loves. Plus, you get a LARGE STORAGE BOX, helping you organize the pieces together & making your life much simpler. With children-friendly rounds edges, your children. Quality durable materials that will withstand countless hours of playing. (Suitable for children aged 3+)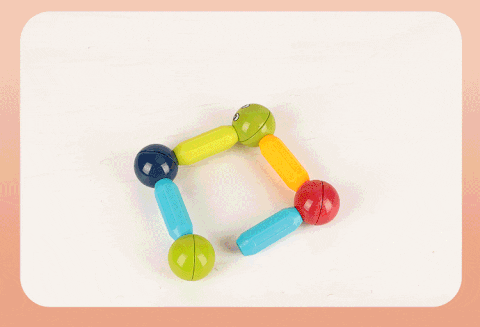 ★ 

HIGH-QUALITY MATERIALS

★ Magnetic Balls and Rods 

are made of high-quality ABS: strong, smooth, and don't contain phthalates, lead, cadmium, and BPA. The groove design on the surface of the magnetic building blocks and the large size is easy to grasp and can prevent children from swallowing, allowing parents to do their own thing with peace of mind. (The recognized safety diameter is 1.25 inches, while the diameter of our magnetic ball reaches 1.4 inches, safe for kids!!)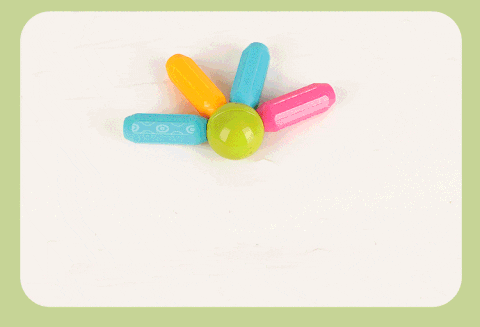 ★ Enjoy Family Quality Time & Learn Together ★ With Sticks and Balls Magnets Set, your children and you can bond for hours and experience together with the joy of turning your imagination into reality. The best game for developing kids patience, precision, and problem-solving skills, while nurturing an artistic perception and conceptual understanding of form and function. The intricate PATTERNS OF DOTS & WHIRLS on the magnets enrich the playing experience and spark the imagination

★ TRUSTED BRAND! ★ We will do whatever it takes to make you thrilled with your purchase. Our Magnet Building Sticks and Balls Playset has a unique design, with BALLOON-LIKE SHAPES and PASTEL COLORS + it arrives in a One-of-a-Kind Gift Box.
★ A GIFT THAT EVERY CHILD WILL CHERISH ★ Astounding Pastel colors, shapes & models with

 

Ealingkids's special design:

 artistic magnetic rods with

 pop texture design

, the cute magnetic ball with

 

smiley face pattern

 

that mesmerizes and everyone loves. Plus, you get a LARGE STORAGE BOX, helping you organize the pieces together & making your life much simpler. With children-friendly rounds edges, your children. Quality durable materials that will withstand countless hours of playing. (Suitable for children aged 3+)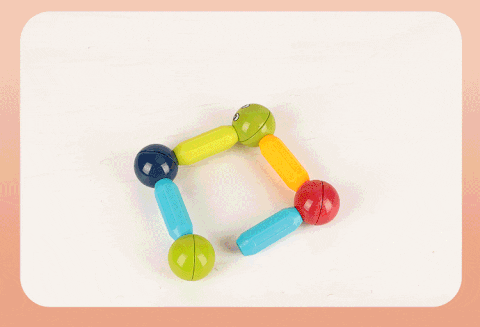 ★ 

HIGH-QUALITY MATERIALS

★ Magnetic Balls and Rods 

are made of high-quality ABS: strong, smooth, and don't contain phthalates, lead, cadmium, and BPA. The groove design on the surface of the magnetic building blocks and the large size is easy to grasp and can prevent children from swallowing, allowing parents to do their own thing with peace of mind. (The recognized safety diameter is 1.25 inches, while the diameter of our magnetic ball reaches 1.4 inches, safe for kids!!)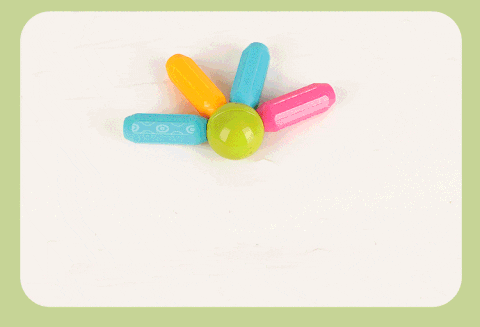 View full details